Happiness
is waking up
without a

hangover.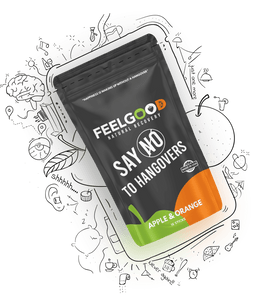 Say "no" to hangovers with FEELGOOD™, a natural supplement that helps your body detox faster so you can enjoy tonight AND tomorrow.
HOW
IT WORKS
FEELGOOD Natural Recovery™ works by boosting your body's production of the anti-oxidant glutathione. Known for its detoxifying properties, glutathione works around the clock to neutralize toxic substances in your liver...like that final tequila shot after last call. (We don't judge.)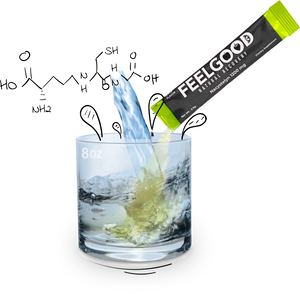 THREE STEPS
TO AVOID A HANGOVER
For best results, take one FEELGOOD™ before you start drinking and another one when you're ready to call it a night. It's a pre-game drink… and a nightcap.
POUR
Pour one stick of FEELGOOD™ in water.
MIX
Mix with 8oz of water.
DRINK
Enjoy and proceed to party responsibly.
THE
FEELGOOD™
DIFFERENCE
Unlike many hangover relief products on the market, FEELGOOD™ doesn't just mask your symptoms; it actually cleanses your liver of toxins… like alcohol. And because we believe everyone should be happy and hangover-free, FEELGOOD™ will cost you less than one cocktail.
WHAT OUR
SOBER
CUSTOMERS SAY
YES IT WORKS!
I notice a tremendous difference after taking FEELGOOD hangover relief. I'm a late night social drinker and I just don't have that awful hangover the next day.
GREAT TASTE!
I've had great success with feelgood. I feel so much better and have energy to be active the day after fun with my friends. Taking feelgood really helps me be productive! Another thing I love is that they taste great.
WONDERFUL!
This has helped me with my hangovers. I plan ahead, take Feelgood and I look forward to a fun night and an active day after!
SUBSCRIBE AND
SAVE 15%
Save 15% on our 30-packs with a weekly or monthly subscription. All you need to do is select the product and frequency - that's it!
Say, "That's the last time I drink" for the last time!